E-Tourism Africa Summit Speakers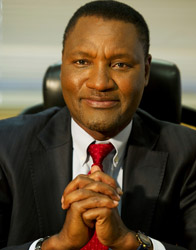 With a wealth of experience in the field of travel and tourism, Mr Thulani Nzima took up his current position as Chief Executive Officer of South African Tourism in January 2012. Mr Nzima is responsible for steering the mandate and all operations of the national destination-marketing organisation's head office and its country offices.
His career began in the banking industry in 1987. In 1991, he joined South African Airways (SAA) and spent 14 years honing his skills in all aspects of the local and international travel and tourism sector. Nzima worked his way up through the national airline, holding numerous key positions along the way. He worked in the African, Asian, Australian and Benelux markets, as well as locally, culminating in his position as Senior Executive Manager and the driving force behind the strategic realignment of SAA's Voyager programme.
After a stellar career at SAA, Nzima joined the South African Travel Centre (SATC) in 2005 as the company's Chief Executive Officer, where he excelled at re-energising the business model, creating new revenue streams and developing key strategic alliances. He has held the position of Director and Board Member at the SATC Group, was a Director and Chairman of Travel Experience (Pty) Ltd and a Board Member of GlobalStar TMC International.
Nzima joined AVIS Rent-A-Car South Africa in 2007 as Director of Sales and Marketing. He was responsible for the company's sales and marketing strategy and all revenue-generating business streams, as well as its international sales-strategy development and the company's website-development, communications and public relations strategies. While at AVIS, he served as Divisional Board Director for AVIS Rent-A-Car South Africa.
Nzima is passionate about South Africa as a destination, as well as the travel and tourism industry as a whole. No doubt his extensive experience, vision and commitment to excellence stand him in good stead as CEO of South African Tourism.