Keep Up To Date with the Latest Travel News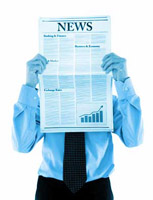 The Online Travel Sector is so incredibly dynamic that it is vital to have access to regularly updates news services and newsletters that can keep you updated on travel and technology news from around the globe. Check out these valuable news sites:
For travel technology news and trends visit Tnooz for regular updates on the online travel scene.
You can also join  TravelMole. Their website provides travel and tourism professionals via daily trade news reports, networking and job opportunities, topical discussion, searchable archives and reference directories, as well as free newswire bulletins.
The website of the European Travel Commission's New Media Review is a great place for the latest news, developments and research data.
Another source of Global Travel Industry news is e-Turbo News which offers news and frequent email updates.  Travel Daily News is a daily updated service with news, interviews, opinion pieces and regional news databases.
Both PhocusWright and EyeForTravel are excellent sources of travel research industry reports, white papers and analysis. You can get update news on their top level international conferences and events, subscribe to RSS feeds and more.
For Social media news, updates and trends visit Mashable which provides constant updates on the latest from the dynamic world of social.
Also become a fan of E-Tourism Frontiers on Facebook for regular news and updates, including the latest on our events.