Partnerships with E-Tourism Frontiers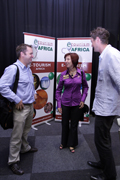 Are you a travel or technology professional with an interest in tourism in emerging markets? Do you have a technology, service or product that would be beneficial to a new and vibrant tourism economy?
You may be eligible to present at one of our events or to exhibit your products or technologies in our special marketplace.
We offer speaking slots for local and international tourism and technology experts and those launching new products and services to the African market. Our events host technology exhibitions with stands and meeting places provided for suppliers to demonstrate their products and services and network with clients.
If you'd like to present, exhibit or participate, please Contact Us.
If you have a stake or interest in tourism in emerging markets- we'd love to hear from you and have you join our ever-expanding network of Governments, Destination marketers, travel and tourism professionals who want to work together to develop and advance tourism in developing destinations.