E-Tourism Africa Summit Speakers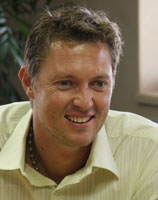 After consulting to SA Tourism in a number of different areas, in 2008 William joined the Marketing Team at SAT as the 'eMarketing guy'.
Starting out as a project manager at Rapid Blue Interactive as many as 12 years ago, William has been in the digital communication space since then working as part of agencies and global companies all that time.
Joining SATourism has been a challenge in that many of the systems and platform in the business, the online strategy and the online space itself have all been changing rapidly, which means keeping your eyes open for new opportunities, getting your hands dirty to fix things, and trying to educate and motivate people to take a risk and join you on a new journey – an eMarketing journey. William has brought a fresh way of thinking and sometimes a gung-ho way of doing things to the organisation.