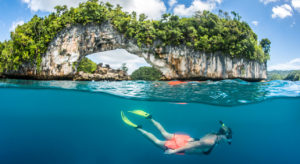 E-Tourism Frontiers has been working with PATA to present the  PATA New Tourism Frontiers Forum (NTFF)  on November 16-17th in Palau. NTFF gathers the top minds in destination travel for inspiring and insightful discussions on some of the major issues in marketing and managing tourism growth to lesser-known destinations. Aligning with the advocacy theme of tourism dispersal the Forum shines the spotlight on new and emerging destinations through its choice of venue, introducing delegates to lesser-known yet attractive corners of the world.
The format is collaborative yet informative, delivered through a two-day programme consisting of a one-day conference, networking events and a day of on-ground activities known as the Technical Tour and Tourism Marketing Treasure Hunt.
Generously hosted by the Palau Visitors Authority, with PATA NTFF 2017 looks to the future by protecting the past as we examine the sustainability of tourism development with a pledge from the host country of Palau to preserve its destination for future generations. The forum agenda will discuss how tourism may be promoted effectively by reviewing the latest trends in marketing and technology while focusing upon genuine authentic visitor experiences in a natural and protected environment.
Palau's Rock Islands house one of the world's greatest concentrations of coral and marine life and, in 2012, the Rock Islands Southern Lagoon was inscribed into the United Nations Educational, Scientific and Cultural Organization as a World Heritage Site. In 2009 Palau became the world's first Shark Sanctuary and, in the near future, a Palau National Marine Sanctuary will restrict 80 percent of Palau's Exclusive Economic Zone from foreign fishing.
See more here.
Social Share