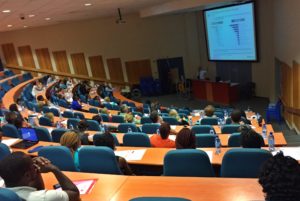 E-Tourism Frontiers worked with Namibia Tourist Board to deliver a series of practical digital travel seminars for their tourism sector, followed by joint strategic sessions on Digital Destination Marketing with leading stakeholders and tourist board members.
These sessions provided insight into the rapidly evolving digital landscape and how it can help improve the way tourism is both managed and marketed in this fast growing sector. Namibia is experiencing a sharp increase in interest in key markets for adventure travel and high end safaris, and is looking at how the sector can grow sustainably while protecting the precious unspoilt wilderness that defines their products.
The sessions received fantastic feedback from the trade as offering genuine practical solutions and identifying key trends that will impact the way their businesses will fare in the connected travel market.  A guest session from TripAdvisor showed encouraging data for the destination, with a 40% year on year growth in engagement with Namibian content.
Further sessions are planned for 2017.
Social Share